Renaissance History Portfolio:A History of Europe and the Americas from the 14th -18th Centuries
Research, Read, Write, Illustrate . . .Tell the Story
Bundled Specials:
Renaissance History Portfolio "classic" Bundle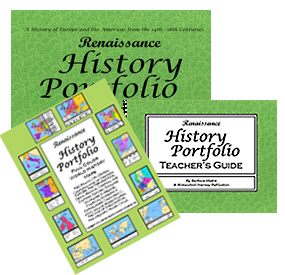 – Renaissance History Portfolio in 3-ring binder
– Teacher's Guide in PDF (Instant Digital Download)
– Full Color Maps in PDF (Instant Digital Download)
Perfect for families with more than one child using the Renaissance History Portfolio "classic". *Reflects a discount of $10.00, a 17% savings.
$49.85

 The Core Components:
The "Classic" Portfolio for Ages 9 and Up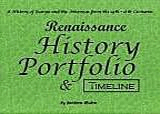 The Renaissance History Portfolio contains landscape oriented cardstock pages, bound in a sturdy and attractive 3-ring binder. Each Portfolio includes a Table of Contents, chapter divisions, black line maps, and a unique timeline. Portfolio pages are specially formatted with a system of frames–referred to as "text boxes" or "image boxes"–for reports and images.  *Combine the Portfolio with the Full Color Maps and the Teacher's Guide.
$39.95

The Junior History Portfolio for Ages 5 – 10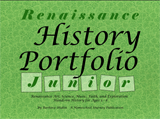 The Junior Portfolio is a modified version of the "classic" Portfolio, with the same chapters and chapter order as the "classic". The Junior notebooking pages include black line maps, images and puzzles, and full-page coloring images. Each Portfolio also comes with a special Junior version of the Teacher's Guide, and includes a concise bibliography, ideas for multi-level written work, additional images and puzzles, plus instructions and components for numerous "lap-book" style booklets. No separate Teacher's Guide is required.
$39.95

Essential Add-Ons:
History Portfolio Teacher's Guide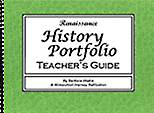 Rely on the Teacher's Guide to provide written assignments, images, and various puzzles and activities for each and every "text box" or "image box" in the Portfolios. Works with any narrative history stories, text books, or non-fiction sources of your choice.*For Use with the "Classic" History Portfolio
$24.95

Hard Copy
$24.95

Instant PDF Download
History Portfolio Full Color Reference Maps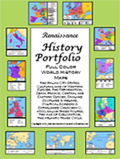 Each of the full color reference maps correlate with the black line maps provided in the Ancient History Portfolio "classic" and Junior.
Contents:The Italian City States, Cultural Map of Western Europe, The Reformation, Spain, France, Central and Eastern Europe, England Scotland & Ireland, Political Borders & Established Churches C. 1600, Major Trade Routes, The Age of Exploration, The Atlantic Trade Cycle.
$19.95

Hard Copy
$19.95

Instant PDF Download
Additional Related Products: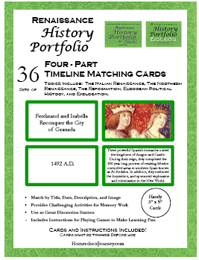 – Handy, Four-Part, 3″x5″ cards. – Match by Title, Date, Description, and Image- Provides Challenging Activities for Memory Work- Use as Great Discussion Starters- Includes Instructions for Memory Work Games
$14.95

Download your own set of Timeline Matching Cards to use as a convenient resource. Once downloaded, print the cards on 3″ x 5″ index cards, OR print on 8 1/2″ x 11″ card stock paper and trim before use.